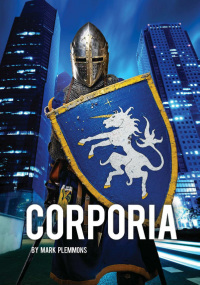 Featured Product!
Corporia
is a tabletop role-playing game of genre-bending fiction and futuristic urban fantasy written by
Origins
and
ENnie
award-winning author Mark Plemmons. In
Corporia
, you take on the roles of reborn Knights of the Round Table or their supernaturally-powered allies, fighting an invisible war for justice in the struggle between otherworldly Chaos magics and the oppressive Order of the ruling mega-corporations.
The goal of
the original Corporia campaign on Kickstarter
was to raise funds to publish a signed & numbered, limited edition hardcover, and distribute the books and other rewards to the backers. We reached our funding goal with enough of a bonus to add multiple 'stretch goals', and are pleased to say that the Kickstarter backers received their rewards on time (some were even early).
Corporia
is now available in PDF and other digital formats at multiple online retailers (see the
Products
page). If you want to stay up to date with developments about
Corporia
and other projects, follow Mark Plemmons and Brabblemark Press with the social media links at the top of this page!
---