Corporia is a tabletop role-playing game of genre-bending fiction and futuristic urban fantasy where you take on the roles of reborn Knights of the Round Table or their supernaturally-powered allies, fighting an invisible war for justice in the struggle between otherworldly Chaos magics and the oppressive Order of the ruling mega-corporations.
---
---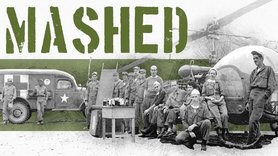 MASHED is a tabletop roleplaying and cooperative storytelling game that explores the value of human life and the stresses of war—but it's also about relationships. And courage. And laughter. And love. If you can find ways to relax amid the horrors of surgery and war, you might get rotated home with your sanity intact. Just remember that you're practicing medicine in a combat zone—and death isn't confined to the operating tent.

MASHED uses a modified version of the Apocalypse World rules.
---